My thanks to Tom Hoffman who has created a virtual machine to test the internet share services of the XO laptop and Sugar interface. Thanks also to the good folks at OLPCNews for pointing me to the instructions below. They really make me wish I had jumped on board the XO bandwagon a year ago.
I'm not sure I understand how it all works yet but the result is a great demo of the power of the XO laptop. Even though I have two XO's myself it's great to chat with other new supporters of the OLPC project.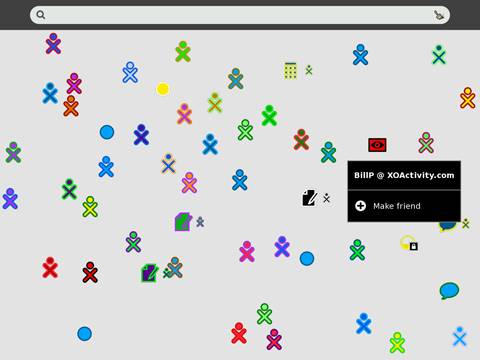 My new XO Neighborhood
I've only run into the nicest people but obviously I don't recommend this for unsupervised kids. To expand your neighborhood use the following steps:
Step 1: Launch the Terminal Activity and enter the following commands.
Step 2: sugar-control-panel -g jabber
Step 3: sugar-control-panel -s jabber xochat.org
Step 4: Reboot Sugar with CTRL-ALT-ERASE
If you see an open Activity, just click to join. There is still one problem with the chat activity. The default build has a bug so soon after you start to enjoy your chat the screen scrolls all the way up each time a new chat message is sent. If you want to see everyones chat you'll need to keep scrolling up. Very annoying but worth it for now. I have already had some experience rebuilding my XO so when a new build is available I'll provide instructions.
My first XO Chat Experience
A tip to those who haven't received their XO laptops yet. When you first boot you'll be asked for a user name. The name will be displayed in the neighborhood so pick something that you want others to see. I like folks who included their location, but if your child will be using it, don't include their last name.
UPDATE: The following comment was posted on January 7th
Please be aware that the xochat.org server is now very overloaded - I see lots of networking retransmits and people are often not visible. The load is proportional to the product of the number of registrees times the current number of users, for the reasons documented at XMPP_Extensions. So don't connect (and thus automatically register) unless you will really be contributing, and/or set up your own ejabberd server. -Neal McBurnett