and.. How do I copy XO files to my own computer? It took me a few days to learn how to do screenshots to post here. It's really simple and this lesson will also teach you how to copy almost anything from the journal to a USB drive connected to your XO laptop.
Step 1: Get the screen you want and just hold down the Alt key and press 1. (Alt+1) This will create a screenshot.
Step 2: Go to back to Home and resume the XO Journal Activity. You'll see a new "Screenshot"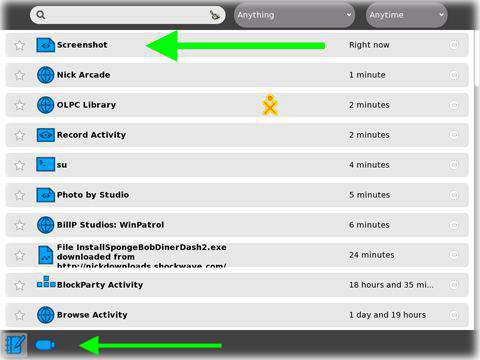 XO Journal
Step 3: Plug in a USB thumb drive or other supported USB drive into one of the USB ports. You could actually do this at anytime but I wanted to split up the two operations. When your USB drive is plugged in you'll see a USB icon on the bottom of the screen.
Step 4: Click on the Screenshot; drag it down and drop it on the USB icon. You can also drag down other data objects like photos or files created with Write.
Step 5: Hold the pointer over the USB device icon and wait until you see "Unmount" appear. Be sure to Unmount the device or the the screenshot file may be corrupted.

Step 6: Plug the USB drive into your other computer and use explorer to view your files. You should see "Screenshot.png" followed by "Sceenshot_1.png","Sceenshot_1_2.png" and so on. Most photo and imaging programs will read the .png format.